Fire Damage Restoration in Kansas City
Business and house fires can be devastating—and not just because of the damage they can cause to building materials and personal belongings. Fires are typically the most damaging type of disaster that a property owner can experience, and unfortunately, they are also the most common. The National Fire Protection Agency reported that there are an estimated 358,500 residential home fires each year in the United States. At Certified Restoration of Kansas City, we're committed to helping our local communities restore their homes and businesses and navigate the insurance claim process after fire damage and smoke damage. We offer full residential and commercial smoke and fire restoration services and are available around the clock.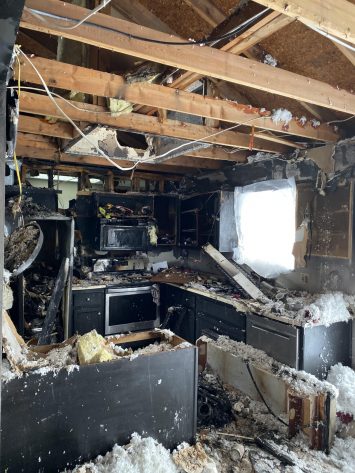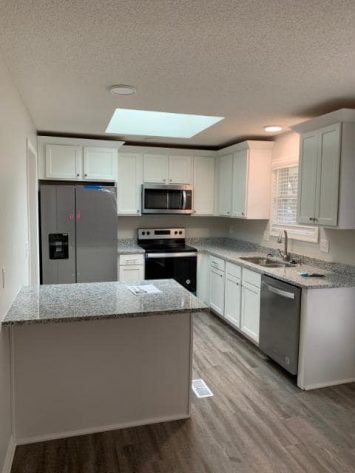 Fast Responses 24/7
Our highly-trained technicians have many years of experience in fire and smoke restoration. We're here to put those years of experience to work for you when you need it most, whatever time of day or night it happens to be. Don't hesitate to call us 24/7—if your need is urgent, we'll be on our way within an hour.
Our Fire Restoration Services
Fire damage can result from a number of causes from electrical fires to natural disasters. Our experienced team of fire restoration specialists is equipped to handle any fire damage situation no matter the extent of the damage. Certified Restoration's team of professionals understand that steps must be taken immediately to save furniture and other possessions after fire damage has occurred. When left on-site after a fire, objects continue to absorb smoke odor, soot, and moisture. Certified Restoration will remove all salvageable furniture and belongings to our cleaning facility, where they will be treated with the utmost care and respect. Wherever it is possible, we will restore your possessions to pre-loss conditions. We also conduct thorough inspections of the building and clean, repair, and restore your home to its original condition before disaster struck.
We're committed to providing thorough repair and clean up services as a part of our fire damage restoration process, including soot damage repair and water restoration.
Soot and Smoke Restoration
Even small fires that are quickly extinguished result in damage throughout the entire building. The layers of soot that cover everything within proximity of the fire can be extremely difficult to clean, and smoke odors can travel throughout the entire building, lingering deep within walls and ceilings. As a part of our fire damage restoration process, our team will also provide smoke restoration, removing soot from all surfaces.
If you're hoping to do some preparatory cleaning of existing fire damage before eliciting help from a professional restoration company, some initial actions you might consider include ventilating the area, installing a dehumidifier, donning protective long-sleeved clothing and gear like gloves and a mask, and removing all excess debris and belongings that can be discarded or cleaned separately. 
Moreover, be sure to make note of the appropriate cleaning technique for each type of damage or surface inside the home, so as not to cause further damage. For example, cleaning techniques for low-oxygen fires, as opposed to high-oxygen fires or kitchen fires, has its own recommended cleaning methods, with regard to wet or dry cleaning techniques. A professional cleaning and restoration company will be able to more easily estimate the best cleaning technique for each situation, so contact Certified Restoration for an estimate.
Fire Damage—More Than Just Flames and Smoke
Water used to extinguish the blaze can permeate the structure of your home and compromise its structural integrity. Water within your walls and subfloors can cause the growth of mold, mildew, and other bacteria. Our extensive fire damage cleanup process also includes water damage restoration when needed to ensure the water used to put out the fire doesn't end up causing further damage.
Moreover, our contractors will check to see whether there is irreparable carpet damage and evaluate what can be done toward mold remediation, in case water extensively damaged your carpet or flooring. If so, we may consider reconstruction of your floors or foundation, if necessary. Your walls or carpets may simply need smoke damage restoration, odor removal, or soot removal, for example, rather than complete replacement. 
For peace of mind, contact Certified Restoration today.
Fire Damage Repair Process
Every home or business that has undergone a fire presents a unique challenge for our fire and smoke restoration technicians. That said, there is still a general process we will follow throughout our fire damage restoration services.
First, we will assess the degree of damage, checking for things like flooring that has been warped by the water used to extinguish the fire and other signs of lingering moisture, along with signs of structural damage caused by the fire itself
Once we have assessed the damage and isolated unsafe areas if needed, we remove any remaining water and ensure the space is dry so mold will not set in
We use specialized equipment to clean the soot and smoke damage from the surfaces of your structure
When all signs of smoke and soot are gone, we sanitize and deep clean the property and then work to restore your structure and reverse the damage that has been done.
Call Certified Restoration for Your Fire Damage Repair Needs