The Home Restoration Company
Certified Restoration specializes in the emergency cleanup of residential and commercial properties that have been damaged by fire, water, or other catastrophes. If you need your flooded basement cleaned up, water mitigation, mold removal, sewage cleanup, fire restoration or more—we are here for you 24 hours a day, 7 days a week. When you call us, we see you as more than just a customer—we see you as a friend or neighbor in need. That's why we take restoring your property to its original condition so seriously.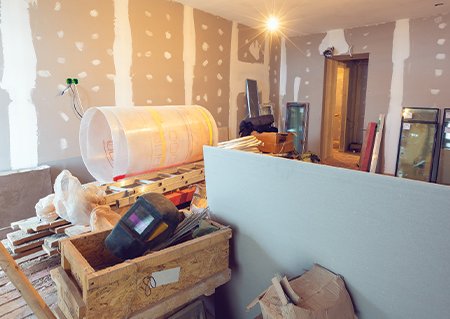 Fire and Water Restoration from a Locally-Owned Company
We're different from national disaster companies because we are locally owned and operated. Because we rely on our local customers for our livelihood, we view them as an important part of our team. That's why our crews are available 24 hours per day and are prepared to be on-site within an hour of your call. Furthermore, we understand how confusing the process of damage restoration can be due to insurance procedures. We're here to guide you through every step of the process and will make sure to address every concern you have.
Professional Restoration from Certified Restoration
From the initial comprehensive inspection and assessment to dealing with the insurance company to the most thorough clean-up possible, you will always have someone you can trust to help you each and every step of the way. Our crews are trained and experienced in every type of emergency—they have the expertise and certifications necessary to make your property look like new again! We can even bill your insurance company directly, saving you from the headache of insurance claims paperwork.
Certified Restoration is also a premier fire emergency company. When it comes to fire, it's important to hire a company that is trustworthy and will deal with the entire process. This is why you can count on Certified Restoration to get your property back to normal. We will handle the entire process for you; from boarding up your home, to working with your insurance company. Call us today.
Our Fire, Water Restoration and Mold Remediation Services in Kansas City
Certified Restoration is proud to offer the full suite of cleanup and restoration services to Kansas City and the surrounding region. Whether your property has been damaged by fire, water, storms, or other catastrophes, we are here to provide the support and services you need to get life back to normal. We offer:
Water damage restoration

Sewage cleanup

Fire damage restoration

Mold remediation

Mold assessments

Storm cleanup
Why Choose Certified Restoration?
There are many reasons to choose our services over competitors. We have an A+ rating with the Better Business Bureau due to our excellent quality of service and care. We provide 24/7 service and can be on our way to your site within one hour of your call. We provide free estimates on our work so you know exactly what you'll be getting and what the cost will be. Furthermore, we bill directly to your insurance for your convenience. As a locally-owned and operated home restoration company in Kansas City, we're proud to be your partners in all things restoration.
Call us 24/7 at (816) 272-4640 and we will be on our way within the hour!