Kansas City's Preferred Restoration Company
Curious about what makes Certified Restoration one of Kansas City's preferred restoration companies? Whether you need water mitigation, mold removal, sewage cleanup, fire restoration, or more—we are here for you 24 hours a day, 7 days a week. When you call us, we see you as more than just a customer—we see you as a friend or neighbor in need. That's why we take restoring your property to its original condition so seriously. Not to mention, when you call us for emergency restoration services in the Kansas City area, we'll be on our way within the hour to provide relief and prevent more significant damage.
Certified Restoration is a full service restoration company located in Lee's Summit, Missouri. We specialize in the emergency cleanup of residential and commercial properties that have been damaged by fire, water, or other catastrophes. Need immediate restoration services? Call us 24/7 at 816-589-6300..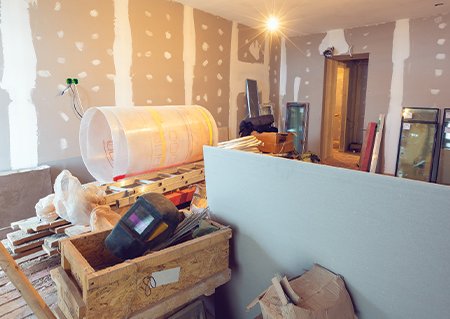 Fire and Water Restoration from a Locally-Owned Company
We're different from national disaster companies because we are locally owned and operated. Because we rely on our local customers for our livelihood, we view them as an important part of our team. That's why our restoration experts are available 24 hours per day and are prepared to be on-site within an hour of your call. Furthermore, we understand how confusing the process of damage restoration can be due to insurance procedures. We're here to guide you through every step of the restoration and insurance claim process and will make sure to address every concern you have.
Professional Restoration from Certified Restoration
From the initial comprehensive inspection and assessment to dealing with the insurance company to the most thorough clean-up possible, you will always have someone you can trust to help you each and every step of the way. Our crews are trained and experienced in every type of emergency—they have the expertise and certifications necessary to make your property look like new again! We can even bill your insurance company directly, saving you from the headache of insurance claims paperwork.
Certified Restoration is also a premier fire emergency company. When it comes to fire, it's important to hire a company that is trustworthy and will deal with the entire process. This is why you can count on Certified Restoration to get your property back to normal. We will handle the entire process for you; from boarding up your home, to working with your insurance company. Call us today.
Our Restoration Services in Kansas City
Certified Restoration is proud to offer the full suite of clean up and restoration services to the Kansas City area. Whether your property has been damaged by fire, water, storms, or other catastrophes, we are here to provide the support and services you need to get life back to normal. We offer the following residential and commercial restoration services:
Water Damage Restoration: Whether it's heavy rain or a burst pipe, the technicians at Certified Restoration are experts in providing water damage repair and restoration no matter the cause. From clean up to reconstruction to dealing with insurance, Certified Restoration can provide the services and guidance you need to get back to normal after flood damage.
Sewage Cleanup: Sewage can create more issues for homeowners and business owners than just water damage—sewage contains pathogens, fungi, and viral contagions that can pose serious threats to your health. When dealing with sewage cleanup, it's crucial to seek a certified restoration professional that understands the proper precautions and restoration techniques required to restore your property after a sewage backup. 
Fire Damage Restoration: As one of the most damaging types of disasters, fires can lead to loss of personal possessions and significant property damage. Whether it's your home or business, we're here to provide you with peace of mind and help you navigate the insurance and restoration process after a fire.
Mold Remediation: Excess water and moisture in your home or business can lead to mold growth. Unfortunately, mold growth doesn't just create unpleasant odors throughout your property—mold growth can be a health hazard and can cause significant damage to the structure of your home or building. At Certified Restoration, we provide comprehensive mold remediation services to help restore the health of your home.
Mold Assessments: The indoor air quality of your home and office, retail store, or other commercial building can impact your health, especially if you're suffering from chronic health conditions such as asthma or allergies. Certified Restoration can help you improve the air quality of your property by providing mold remediation services.
Storm Cleanup: Natural disasters can bring as much harm to your peace of mind as to your property. At Certified Restoration, we'll be here with you every step of the way throughout the storm damage cleanup and restoration process.
Why Choose Certified Restoration?
There are many reasons to choose our services over competitors. We have an A+ rating with the Better Business Bureau due to our excellent quality of service and care. We provide 24/7 service and can be on our way to your site within one hour of your call. We provide free estimates on our work so you know exactly what you'll be getting and what the cost will be. Furthermore, we bill directly to your insurance for your convenience. As a locally-owned and operated home restoration company in Kansas City, we're proud to be your partners in all things restoration.
Call us 24/7 at 816-589-6300 and we will be on our way within the hour!
Your First Call When Disaster Strikes
Discover why Certified Restoration is among Kansas City's preferred restoration companies—call us 24/7 at (816) 272-4640 and we will be on our way within the hour!