Sewage Cleanup in Kansas City
Sewage backups pose some of the most significant dangers to home and business owners. Not only is the stench that accompanies a sewage flood unbearable, but pathogens, fungi, and viral contagions contained in the water can pose serious health hazards. When not addressed, persistent sewage problems can also create serious structural damage which can be extraordinarily expensive to repair.
The crews at Certified Restoration are available 24 hours a day, 7 days a week—committed to providing you with the most responsive and professional emergency sewage cleanup services in Kansas City. We'll be there to guide you throughout the entire process, from navigating insurance claims to restoring your home back to its original state.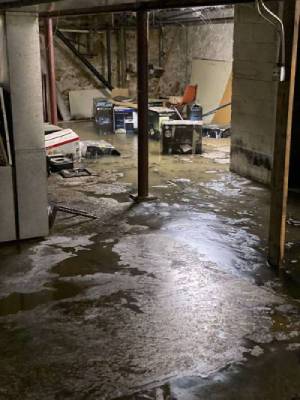 Our Kansas City team of professionally certified experts have years of experience resolving various sewage cleanup and repair problems. We work strictly in accordance with federal, state, and local regulations to maintain the highest level of quality and safety in all that we do. Whether you have experienced septic tank backflow, pipe clogs and backups, or sump pump failures, we will extract, clean, and disinfect the damaged area as quickly as possible. No matter what time of day or night, we are there for you when you need emergency sewage cleanup services.
Why Choose Certified Restoration?
It's our goal to be your guide in the decision-making process—from filing insurance claims to restoring your property back to its original state. Choosing to partner with Certified Restoration gives you access to specialized equipment, knowledge, and experience that allow you to keep your family safe while speeding up the sewage cleanup process. In times of emergency, we're here to help you restore your peace of mind—you'll rest assured knowing that the issue will be dealt with quickly and safely by a certified expert. Our team at Certified Restoration has undergone rigorous certification training and years of experience in the damage restoration industry.
Benefits of Partnering with Certified Restoration: 
A+ BBB rating
24/7 live calls
On our way in 60 minutes or less
Free estimates
We bill directly to insurance
Locally owned and operated
Serving you since 2004
Sewage Cleanup Process: 
Specialized water mitigation and sewage removal focused on disinfecting and eliminating harmful bacteria, viruses, and fungi. 
Removal contaminated surfaces, including carpet, furnishings, and other materials that may have come in contact with the sewage water. 
Ventilation and dehumidification of the area using state-of-the-art equipment. 
Deep clean and sanitation of the area to prevent spread of microbes that could lead to illness or mold growth. 
Restoration and repair of damaged areas, including drywall and flooring. 
Can I Remove Sewage Myself?
It's critical that you do not try to clean up a mess from broken pipes that are connected to a sewage line. Sewage damage can contain high amounts of harmful bacteria and there are serious health risks associated with it. Coming in contact with raw sewage can cause disease, can destroy your valuables and cause severe damage to your property. Only trained professionals with the right equipment should handle sewage removal.
What Can Cause a Sewage Backup? 
Blockage of city main
Combined pipeline complications during storms
Overflow or backup of home drainage systems
Damage from tree roots
Basement Sewage Removal
Basement sewage damage is especially troublesome because of the contained nature of the basement, containing the stench within. When your basement experiences a sewage crisis, it's imperative to call us for basement sewage cleanup right away.
Call 24/7 for Emergency Sewage Cleanup in Kansas City
We are a Kansas City sewage damage company that provides services to residential and commercial sewage damage victims. If you are suffering from an emergency sewage incident, don't hesitate to call right away at 816-589-6300 so we can start the process as soon as possible. Have questions about insurance coverage? We're here to help you navigate the claim process as well.
We provide services throughout Kansas City metro area.