Water Damage Restoration & Flood Cleanup in Kansas City
When your Kansas City home or business sustains water damage, the extent of the destruction can be overwhelming. It doesn't take much water to result in significant loss in a short period of time—that's why it's incredibly important to hire a company with the skills, experience, and equipment necessary to offer reliable and comprehensive water damage restoration services.
Some causes of water damage could include:
Flood waters
Broken sump pump
Burst pipe/leaky pipe
Broken washing machines
Natural disasters
Storm damage
Broken dishwasher hoses
Open windows
Leaking household appliances
Heavy rains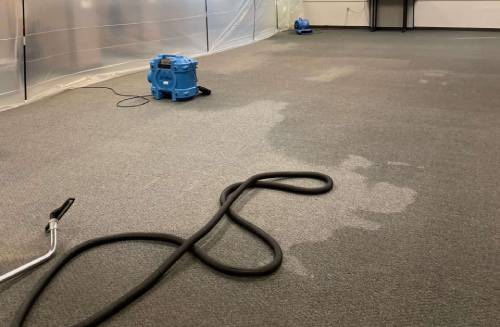 Your homeowners insurance may cover water or flood damage, so you don't have to put off hiring water damage restoration professionals. We can even bill insurance companies for you, making your water damage emergency a lot less stressful for you. We also provide a quick response to calls because personal belongings can be destroyed rapidly if water damage situations are not addressed in a timely manner.
Certified Restoration, one of Kansas City's top water damage cleanup companies, offers round-the-clock water mitigation and flood restoration in the Kansas City area. Our technicians have successfully passed some of the most rigorous water damage training and certification courses in the industry. No matter whether you've discovered flooding from a broken pipe or water damage from a sink overflow, our team of water damage restoration experts can help. We can remove any flood-damaged materials and come up with a custom solution to safely dry, clean, deodorize, and sanitize the damaged areas of your home in the shortest amount of time possible.
If you live in the Kansas City area and are suffering from flood or water damage, don't hesitate to call Kansas City's top water damage company, Certified Restoration, 24/7 at 816-589-6300—we will be on our way in 60 minutes or less!
Why Choose Certified Restoration?
Many companies claim to be the best at water restoration, but how can you be sure you are calling the right team? There is one easy way to find out whether you are calling the best people to deal with your emergency situation. Make a list of what you want in your water damage professionals, and then match that list with the services and assistance we—or other companies—offer. We bet we can beat the offerings of other water restoration companies in the Kansas City area.
We are confident that we are the perfect water damage cleanup experts for you.
We have years of experience handling water problems.
You can review our testimonials near the bottom of this page to see what our customers have to say.
We are proud to offer emergency services to those in the Kansas City area, and we take each call seriously because we don't want significant damage to happen to your home.
We perform water cleanup on behalf of commercial properties and residential properties. There is no job too big or too small for our professional water damage restoration team.
As a water damage restoration company, it's our goal to be your guide in the decision-making process—learn more about the benefits of partnering with a full-service restoration company.
Benefits of Partnering with Certified Restoration:
A+ BBB rating
24/7 live calls
On our way in 60 minutes or less
Free estimates
We bill directly to insurance
Locally owned and operated
Serving you since 2004
Flooded home due to broken or frozen pipes?
Although Certified Restoration responds to water disasters of many causes and sizes, we pride ourselves on being the Kansas City area's frozen and broken pipe specialists. When you experience a broken pipe, it is often due to the weather dropping well below freezing temperatures—this often starts out as a small fix, but if you let it go, you could be dealing with catastrophic loss due to flooding. Give us a call today, and we can get your water damage repaired immediately.
The Water Damage Restoration Process
Our Kansas City flood damage restoration team understands that repairing leaks and removing water is only half the battle. We use state-of-the-art equipment, years of experience, and advanced training certifications to thoroughly clean and restore the damaged areas in your Kansas City home or business. 
Our water damage restoration general process involves the following steps:
Identify Scope of Damage: Before deciding on a plan of action, we use the advanced technology of moisture detectors, hygrometers, infrared cameras, and sometimes snake cameras to identify water location and the extent of the damage. These cameras can even see water damage behind walls.
Water Mitigation: Once we know how much water we're dealing with, we have several methods of water extraction that are highly effective, including truck-mounted extraction units and submersible pumps for high levels of water. Our water damage restoration company is highly skilled at water extraction.
Dehumidification: After water extraction, we use high-tech drying equipment such as industrial grade dehumidifiers, high-speed air movers, and powerful blowers to evaporate moisture from the affected areas that would otherwise get trapped in walls, floors, and furniture. 
Deodorize and Sanitize: Deodorizing and sanitizing products are also used to control odors and prevent the growth of bacteria, mildew, and fungi. Mold growth can cause serious health risks for your family, which is why we take mold remediation seriously.
Basement Flooding
Basement flooding can come from many sources, such as heavy rains or leaks caused by broken pipes. One call to Certified Restoration is all it takes to have a team of flood cleanup professionals at your home in an hour or less, ready to start the water removal process—including water mitigation and flood damage restoration. We have extensive water damage restoration training, and we will detect the water in your basement quickly and handle the water removal completely. Let Certified Restoration help make your house feel like home again!
Water Mitigation
What starts as an easy cleanup can quickly turn into an expensive repair if water mitigation is not completed quickly and thoroughly after a water event. Certified Restoration provides water mitigation services, reducing drying times and preventing mold and secondary damage after flooding or leaks. Our state-of-the-art water removal equipment includes hygrometers, infrared cameras, and more—ensuring thorough mitigation. Call us 24/7 at 816-589-6300 for emergency water removal—we'll be at your door in 60 minutes or less!   
Contact Us Today For KC Water Damage Restoration Services
For top-notch water restoration in Kansas City, you probably want to call a team with extensive experience and the resources needed to fix your entire problem. You want water removal services, cleaning services, sanitizing services, and deodorizing services. You don't want to have to call more than one of Kansas City's water damage companies—you just want to call one—the best one.
Our Kansas City water damage company provides services to residential and commercial water damage victims throughout the metro.We provide professional help and all of our restoration services to customers throughout the Kansas City area.