Storm Damage Cleanup and Restoration in Kansas City
In the midwest, we have no shortage of unexpected extreme weather events that can leave entire communities devastated—from heavy flooding to tornadoes to ice storms. We understand that a natural disaster can bring as much trauma to your peace of mind as it does your home. That's why at Certified Restoration, we're here to help you weather the storm. From storm damage cleanup to navigating insurance, our storm damage restoration team has the experience and training to ensure the entire process goes smoothly from start to finish. 
Need emergency storm damage services? We're available 24 hours a day, 7 days a week to answer your calls.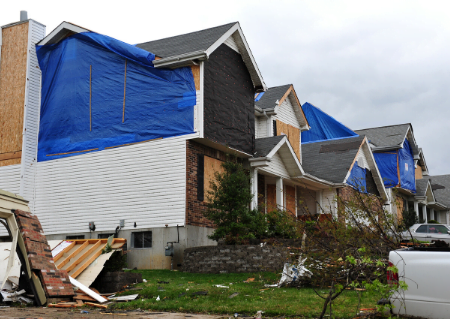 Why Choose Certified Restoration for Storm Damage Restoration?
As a home restoration company, it's our goal to be your guide in the decision-making process after any major event, whether it be basement flooding or fire damage. Not only do we offer full-service cleanup and restoration services, but we also pride ourselves on being a team that has passed some of the most rigorous training and certification courses in the industry. Partnering with us not only gives you access to years of expertise in storm damage restoration—you're also partnering with a company that has extensive experience in insurance. With a background in insurance adjustment, we're able to guide you through what is often one of the most complicated aspects of dealing with home damage.
Benefits of Partnering With Certified Restoration:
A+ BBB rating
24/7 live calls
On our way in 60 minutes or less
Free estimates
We bill directly to insurance
Locally owned and operated
Serving you since 2004
How Storms Can Wreck Your Home & Your Life
Storms in the Kansas City area can do a number on your home and property. You could be dealing with downed trees on your property that present a danger to you, your family, and your guests. Storms can also cause significant water damage and flooding, especially if water finds its way into your home.
Some storms cause fire damage or a tree to fall on your home. All of this damage can seriously impact your life and happiness. Your life could be impacted in the following ways:
You could be stressed out and overwhelmed about how to fix your home after this disaster. Your mental health could suffer until you're able to put your home back together again.
You could miss time from work while you're trying to deal with a disaster, which also could mean lost wages.
You could be feeling anxious because "home" doesn't feel safe right now. When you are looking at a hole in your roof or a flooded basement, it's difficult to feel comfortable and at ease.
Dealing with the damage could cause you to miss out on enjoyable activities, which can in turn cause you unhappiness.
You could be worried about the loss of personal items that are important to you or about further damage to your home.
Handling the insurance process can be complicated, and you may feel frustrated by the task.
How will you get your life back to normal? How do you clean up the mess? Who will make sure the insurance company is treating you fairly?
Certified Restoration to the rescue! We can help you pick up the pieces of your life and your home and put them back together again. We can take on the tedious task of dealing with insurance adjusters as well as the task of removing a fallen tree from your yard. We can also clear the water out of a flooded basement or replace broken windows. We can help with smoke damage, fire damage, wind damage repair, roof storm damage, water damage, and other storm damage cleanup tasks.
Our Storm Damage Cleanup & Restoration Services
Whether your home or business has incurred damage due to flooding, strong winds, ice, hail, tornadoes, or other natural disasters in the Kansas City area, we're here to help. Storm damage cleanup and restoration is a time-sensitive matter—the longer you wait to start the cleanup process, the more damage your home is susceptible to. Once water has infiltrated your home, it can begin damaging personal items, floors, drywall, and structural elements of your home. Not only that, but mold can begin growing in as soon as 48 hours. Our teams will be on our way in 60 minutes or less when disaster strikes—simply give us a call at 816-589-6300 to get started. We provide 24/7 emergency service.
Our storm services include: 
Wind damage restoration
Roof storm damage repair
Water damage restoration
Fire damage restoration
And more!
Strong winds from catastrophic storms and tornadoes can be devastating to your home and property. Whether your property is damaged by the wind itself or by the debris it can often carry with it, our team of storm damage specialists at Certified Restoration is here to help with storm damage cleanup and wind repair services. Wind damage repair may include repairs to siding, roofing, broken windows, and general debris removal. 
Strong winds, heavy rain, lightning, and hail can all lead to significant roof damage, leaving your home exposed to the elements. Roof storm damage may involve missing and damaged shingles, damaged flashing, and leaks. Regardless of the severity, Certified Restoration is here to help provide roof damage repair after major storms. 
At Certified Restoration, our team of experts has the specialized training and optimal experience necessary to handle storm damage emergencies involving fire and smoke damage caused by lightning, downed power lines, and other catastrophic events. As a part of our fire damage restoration services, it's also our goal to save all salvageable furniture, remove soot, and ensure the water used to put out the fire doesn't cause further damage. 
Whether your home has incurred water damage due to flash flooding, a leaking roof, a failed sump pump, or from the water used to extinguish a fire—Certified Restoration is here to help. Our team provides a fast response to water and flood damage, ensuring the water removal process is started as soon as possible. To learn more about our drying process and water damage restoration services, visit our water damage page. 
Tips for Flooding:
If extreme weather leaves your home or basement flooded, it is important to take the following precautions until our team is able to arrive at your property: 
Most importantly, ask whether it is safe to stay in your home 
Be mindful of electrical and slip and fall hazards
Don't use your household vacuum or any other electric-powered items to remove water
Do not use the television or other appliances
If it is safe to enter your home, you can remove excess water by mopping floors and wiping excess water from furniture
If it is safe to enter your home, you can gather loose items from floors
Call Certified Restoration for Kansas City Storm Damage Cleanup and Restoration
Certified Restoration serves the Kansas City area when disaster strikes. Our lines are available 24/7 for emergency storm damage restoration services—simply call us at 816-589-6300 and we'll be on our way in 60 minutes or less!